Muker Show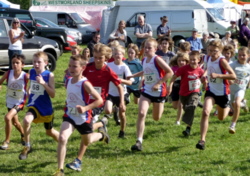 We are a small and friendly traditional agriculture and horticultural show blessed with an enviable location – the meadows in Muker village –  with stunning views up and down the dale. The show is always held on the first Wednesday of September.
2012 Show
The 107th Grand Annual Show was held in Muker on Wednesday 5th September 2012. A sunny, dry day brought out one of the biggest crowds seen at the show.
See the results section for the full list of 2012 winners.
Two film crews were round and about covering items for The Dales programme and a new programme called Keep Cooking and Carry On to be screened in the autumn on BBC2.
Visitors came from all corners of the UK , including Isle of Mull, Belfast, Cornwall, East Anglia and even further afield, Papua New Guinea, New Zealand, Nepal, Brazil, USA and Australia.
2013 Show
The 2013 show will be held on Wednesday 4th September 2013. The schedule and classes for the 2013 show will be available in June 2013.
The classes are usually similar from one year to year. So to get a good idea of those likely to be used in 2013 go to the Classes 2012 page. Alternatively, you can download the 2012 schedule below:
Visitor Information
Entry Fee:

Adults £6; Children (5-15 years) £1; Under 5 free
Catalogue £2

Car Parking

Free car parking is provided.
Disabled parking tickets available in advance from the Secretary.

Dogs

Well behaved dogs are permitted on the show field but must be kept on a fixed lead
Dogs are not permitted in the sheep pen area.

The Secretary, Jinglepot Lodge, Gunnerside, Richmond DL11 6JG ::: email: