Muker Show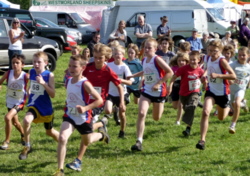 We are a small and friendly traditional agriculture and horticultural show blessed with an enviable location – the meadows in Muker village – with stunning views up and down the dale. The show is always held on the first Wednesday of September.
2015 Show
The 110th Grand Annual Show will be held in Muker on Wednesday 2nd September 2015. The schedule and entry forms for the show are now available from the links below. Alternatively, contact the secretary for a paper copy.
Closing date for entries: Wed 19 Aug 2015
Visitor Information
Entry Fee:

Adults £6; Children (5-15 years) £1; Under 5 free
Catalogue £2

Car Parking

Free car parking is provided. Follow the signage in the village.
Disabled parking tickets are available in advance from the Secretary.

Dogs

Well behaved dogs are permitted on the show field but must be kept on a fixed lead.
Dogs are not permitted in the sheep pen area.

2013 Show Report
The 2013 show was held on Wednesday 4th September 2013.
See the results section for the full list of 2013 winners.
For the second year in a row Muker Show was blessed with fantastic weather. We had the most wonderful day with a record attendance. Thank you one and all for turning out, being there,
doing your thing and creating a memorable day.
Anyone who came will have their favourite moments, but here are a few of ours:
At the official lunch Robert Clarkson gave a humorous account of the dangers of not turning up to a show meeting and finding yourself elected to a new position – he's our new President!
The tremendous sound of so many people clapping and cheering the Fell Race runners, particularly the under 12s. Congratulations to local fell race cup winners James Metcalfe, James Calvert and Scott Tranter.
The sheep dipped in Tour De France jersey colours, Name that Shabby Sheep and decorated bike competitions which raised £200 to help fund next year's Muker Parish Festival to celebrate the Tour De France
Swaledale Fell Rescue's record collection of over £1,300 to support their amazing work
The Maypole Dancing and displays from Gunnerside & Reeth school children. Well done and thank you to all who attended from the school.
A resident of Muker entered into the Men/Boys only Chocolate Cake class and presented the judges with a plate of crumbs and a note "sorry only crumbs, it was so good I ate it myself". Giggling judges – now there's a thing.
The Secretary, Jinglepot Lodge, Gunnerside, Richmond DL11 6JG ::: email: